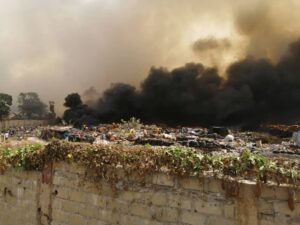 Gambia's Fire and Rescue crews are working to extinguish a fire at a local dumpsite in Bakoteh's neighbourhood Saturday afternoon.
Video footage shows heavy smoke billowing out of the dumpsite which poses a potential health hazard and officials are urging the public to avoid the area where possible.
Measuring 18 hectares, the Bakoteh dumpsite is the largest solid waste site in the country. The dumpsite's waste situation reached a crisis point almost two decades ago without a sustainable solution,
In a post on its official Facebook page, the Kanifing Municipal Council wrote: "The general public is put on notice of potential health hazard from thick smoke and fumes emanatic from flames at the Bakoteh Dump site. Hot weather and dry conditions have increased the fire risk. While Council resources and fire teams are on the ground to bring the fire under control."
The Council appealed to the Bakoteh and neighbouring communities and residents for their patience while the problem is addressed while urging the public to avoid the area where possible.
"We again call on the Central Government to identify a new site for the community waste and provide the necessary National resources to develop a managed landfill for the people of KMC. The Bakoteh Dump Site is full and a national health hazard."