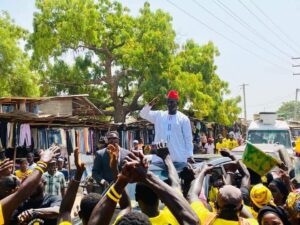 UDP aspirant for Busumbala constituency, Momodou Sabally Wednesday filed an appeal at the supreme court seeking the court to quash the decision of the electoral commission of rejecting his nomination.
Mr Sabally who is also asking the court to make an order directing the IEC to accept his nomination papers, was excluded from 9th April race by electoral commission last Thursday evening.
The IEC rejected his nomination citing sec.90 (1) (e) of the constitution, which bars individuals from being elected who have been found wanting by a commission of inquiry.
Sabally was one time secretary general and head of the Civil Service from 2013 to 2014 under former president Yahya Jammeh's regime. He was also appointed the director general of the Gambia Radio and Television Services (GRTS) and managing director and editor-in-chief of the defunct Daily Observer.
The Janneh Commission was a former commission of inquiry that was constituted to investigate the illegal financial transactions of former president Yahya Jammeh. The commission recommendation and the government's White Paper barred Sabally from holding public office.