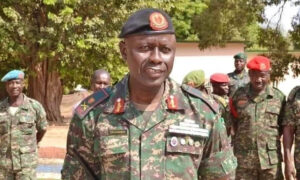 The Gambia Armed Forces has reacted angrily to an audio making rounds on social media alleging undue influence in an ongoing investigation as false and misleading.
GAF in a statement issued Thursday evening rebutted: "It has come to the notice of the Gambia Armed Forces that there is a particular audio in circulation, alleging the Gambia Armed Forces (GAF) Military Police (MP) station in the Yundum Barrack's complacency in a case involving one Mr. Ebrima Jim Drammeh a senior official of the National Drug Law Enforcement Agency Gambia and a brother to the Chief of the Defence (CDS) Lieutenant General Yakuba A Drammeh.
"In the purported audio, it is claimed that the CDS used his powers to favour his brother by influencing the MP's stand in a case involving Mr. Jim Drammeh," the statement said.
According to GAF, the audio could only be false at best, and it is maliciously intended to cause disrepute to the CDS's integrity as it is completely out of context and devoid of accurate facts.  "Contrary to the details of the purported audio, there is an ongoing case at the GAF MP desk in Yundum, the case involves one Mr. Hamza Drammeh, son of Mr. Ebrima Jim Drammeh and nephew to the CDS with three (03) personnel of the 1 Infantry Battalion who were on guard duties at the Petroleum House located at the Brusubi Turn Table."
GAF explained: "The incident occurred on Friday 11th March between 1200hrs and 1300hrs when Mr. Hamza Drammeh (victim) was involved in an altercation with the 3 soldiers on sentry duties at the time of the incident. The altercation resulted to a fracas between Hamza and the soldiers.However, the issue was reported to the GAF MP station in Yundum and as per their mandate, it is the responsibility of the GAF MP to investigate any reported issues involving serving members of the GAF. This is done according to laid down standard procedural orders without fear, ill will or favour.
The GAF MP continues to operate under procedures free from any command interference. Therefore, upon receipt of a formal report of the case, a team of GAF MP personnel was tasked to go to the scene in order to gather first-hand information."