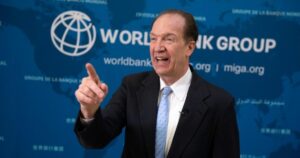 The two-day visit to Dakar of David Malpass is placed under the seal of strengthening collaboration between the Bretton Woods institution and the Senegalese government.
This is the first official trip for the President of the World Bank Group to Senegal and to West and Central Africa. In a statement seen by APA on Friday, Malpass said that his institution is "very committed to maintaining its long-standing partnership with Senegal to increase median household income and promote shared prosperity."
The country currently holds the chairmanship of the African Union (AU) and is hosting the World Water Forum from March 21 to 26. This "demonstrates strong international leadership," the World Bank noted.
David Malpass will participate in this international event whose theme is "Water Security for Peace and Development." The American economist will "meet with Macky Sall, President of Senegal, and will also meet with development partners and key stakeholders," the source said.
During his stay, Malpass also plans to visit various projects financed by the World Bank, including the construction site of the BRT rapid bus system in Dakar and an internet service provider.
The World Bank's portfolio in Senegal currently includes 20 national projects financed by the International Development Association (IDA) for a total of $2.32 billion and 10 regional operations representing $480 million in commitments.
As of January 31, 2022, the International Finance Corporation's portfolio in Senegal – in proprietary investments and advisory services – totalled $283.8 million.