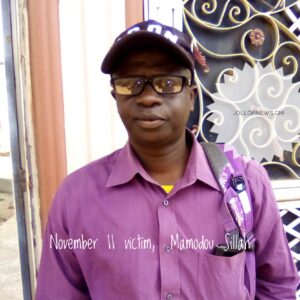 November 11 victim, Mamodou Sillah, has likened the amnesty for former Junta second-in-command, Sanna Sabally, to a possible decision absolving Yahya Jammeh of guilt in the crimes committed under his two-decade long regime.
Sillah made this remark during a press conference that was convened on Saturday at the victims' center headquarter in Kololi as victims are rallying troops to counter a recent recommendation by the truth commission to give amnesty for former Vice-Chair of the Armed Forces Provisional Ruling Council (AFPRC).
Early this week, the local media reported that the Truth, Reconciliation and Reparations Commission (TRRC) endorsed an amnesty for Sanna Sabally. The decision sparked a wave of reactions, prompting the victims' center to go at maximum effort to stonewall the Amnesty Committee.
Mamodou Sillah expressed his disappointment at the TRRC, describing their recommendation as "disheartening" while indicating that Sanna Sabally did not show any sign of remorse for ordering the execution of eleven soldiers, including his brother Amadou Sillah.
In a statement issued Saturday, families of victims of November 11, 1994 urged Gambia government to disregard the truth commission recommendation.
The victims further added: "In its final report, which was publicly released on December 24, 2021, the TRRC found Sanna Sabally, Edward Singhateh, Yankuba Touray and Yahya Jammeh as perpetrators bearing the greatest responsibility for the November 11, 1994 incident."
For her part, Isatou Marong, decried the lack of consultation that was blatantly displayed by the truth commission.
She made it clear that victims should not be left in the dark when taking decisions that will inexorably affect them.
On The Junglers' Release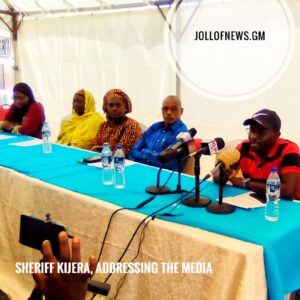 In wake of the release of two members of Yahya Jammeh's hit squad, the Chairperson of The Gambia Center for Victims of Human Rights Violations blamed the Barrow government for the "continued disregard to the victims plight."
Ismaiela Jammeh and Alieu Jeng were released on 'stringent bail conditions' last Friday after being held in detention by Gambia Armed Forces (GAF) for five good years.
Speaking to reporters, Kijera went on to say that one can only blame the Ministry of Justice for allowing a situation like this to happen as the army is not an institution of  the ministry.
He seized the opportunity to clear air over the way the duo were released, adding that the victims' center was put before things accomplished.
"We will come out with a fitting response," he promised while announcing a broader consultation with the victim's community.