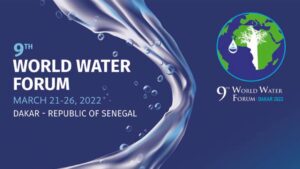 The largest global event related to water, is organized every three years since 1997 by the World Water Council, in partnership with the host country.
Dakar, the capital of Senegal, is hosting the 9th edition of the World Water Forum from Monday 21 to Friday 26 March, the first in sub-Saharan Africa.
The event, organized in Diamniadio, the new urban pole of Diamniadio annexed to the Senegalese capital located 50 kilometers from the city centre, is under the theme "Water security for peace and development."
A topic for which Dakar, "city of all extremes" and "one of the most vulnerable places on the planet," in the words of the hydrologist Emma Haziza, and sub-Saharan Africa, where 500 children die every day for lack of clean water and sanitation and where 70 percent of the population is not connected to any network, could not but be an ideal place for the forum.
More than 5,000 participants, including heads of state, heads of international institutions, company CEOs specializing in water as well as stakeholders, experts and researchers, are expected to attend.
This year's edition was to be held in March 2021 but was postponed by one year due to the COVID-19 pandemic.
In an op-ed published on the eve of the meeting on the forum's official website, Senegalese President Macky Sall called on the international community to place "water at the heart of multilateral action and international policies, to build effective response mechanisms in the face of multifaceted crises and to build a resilient, prosperous and stable post-COVID-19 world."
Sall, who has been the current Chairperson of the African Union since early February, hoped that the meeting will be an opportunity to seize "lessons learned" and to share "innovative experiences from projects labelled as part of the Dakar 2022 Initiative, with a view to accelerating the achievement of the Sustainable Development Goals (SDGs)."
As in each edition of the Forum since 2002, "Dakar 2022" will be the occasion for the awarding of the Hassan II Great World Water Prize, a distinction created by the kingdom of Morocco and the World Water Council to reward "excellence in cooperation and rational management in the field of development and use of water resources."
At the last forum, held in 2018 in Brasilia, the Hassan II Prize for Water, which is now in its seventh edition, had been awarded to the Organization for Economic Cooperation and Development (OECD), in recognition of the work carried out under the aegis of its Secretary General, Mr. Angel Gurría, "for having elevated water security to the status of a great global cause, as well as for the practical guidance provided in this area to countries around the world."
The Hassan II Prize for Water is worth between $100,000 and $500,000.
A strong Moroccan delegation led by the Minister of Equipment and Water Nizar Baraka was to present it to the new winner.