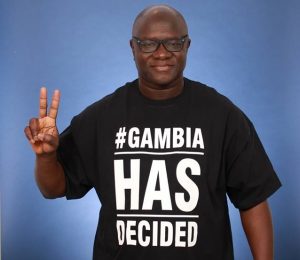 I have just received a letter from the lawyers of Minister of Lands and Regional Governments Musa Drammeh accusing me of defaming their client, Musa Drammeh in my article, 'Bring Back Our Lands! Sack and Prosecute Musa Drammeh' published on my Facebook page on 20th April 2022, and therefore their client is seeking the following from me:
• Provide an apology and a declaration that the allegations referred to are false and defamatory and cause such apology and declaration to be published in the social media site on which your posting was made, and which has given reason for our client's complaint; and to
• Remove the publication in its entirety and the defamatory statements to prevent further harm to our client.
They said if I do not do the above within 7 days, they will take legal action against me!
I wish to categorically state that I stand by my comments which are true and justifiable. I will not retract them, nor will I apologize to the Minister for these comments. I am ready to happily meet him in court!
It should now be clear to all Gambians that we have many men and women in public office who wish to enjoy all the benefits and privileges of public office but do not wish to follow the rule of law much less to be held accountable. It is obvious that the land allocations made by the Minister to a group of Ministers, friends and family violates the State Lands Act. Instead of the Minister withdrawing from infringing on the law, he maintains his position in which he is aided and abetted by two other public officials, Minister of Information Ebrima Sillah and Government Spokesman Ebrima Sankareh.
Therefore, by seeking to threaten me, Minister Musa Drammeh is exposing his inclination to continue to flout the rule of law and damage the public interest by seeking to force me to apologize to him and retract my opinions about his manner of performing his official duties.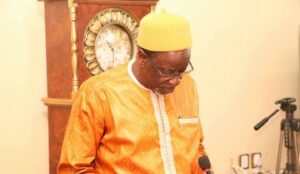 Musa Drammeh's objective is not only to silence me, but also, if successful therefore to effectively silence each and every voice of any citizen who seeks to hold public officials accountable. This tantamount to introducing dictatorship and fear by legal means. Such action is only meant to kill democracy and good governance, thereby perpetrating corruption, abuse of office and illegality in society. This only shows that the biggest threat to democracy see not military generals, but rather elected and appointed public officials.
I put it to Minister Musa Drammeh that he holds the position of a Minister just in case he is not fully aware. Section 72(4)(b) and (c) of the Constitution has amply stipulated that Ministers should refrain from engaging in any conflict of interest situation, as well as refrain from using any official information provided to them to enrich themselves. Since he assumed office, Musa Drammeh has carried out a number of decisions that tantamount to conflict of interest and abuse.
As a citizen, the Constitution gives me the right and duty to hold the Government and its agents accountable through the right to freedom of expression about the manner in which the Government and its agents including Ministers perform their duties. Like everyone else, the opinions I express, pleasantly or unpleasantly are within my rights so long as I do not injure his human rights and dignity, or subject him to hate and discrimination on account of his ethnicity, religion, origin, sex or disability and any other status.
While I will always hold Mr. Drammeh and all public officials accountable, I have never subjected Mr. Drammeh or any public official to hate speech or any defamation, and I shall always defend Mr. Drammeh's human rights and dignity.
Therefore, I thank Musa Drammeh for this initiative because it is high time these issues land in the courts so that all stones will be turned inside out in the best interest of our dear motherland, The Gambia.
For The Gambia Our Homeland