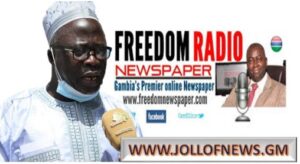 The Minister of Information was among a whole lot of ex-president Yahya Jammeh loyalists who could not believe the former ruler was raping and sexually preying on maidens and women despite the almost daily reportage of these vices by the defunct online Freedom newspaper run by late Pa Nderry Mbai.
The late US-based Gambian journalist with his brave team on the terrain in the Gambia consistently reported on how Jammeh was sexually savouring some of his beautiful protocol maidens, raping wives and daughters of unsuspecting or cowered husbands and fathers.
Despite religiously following Freedom online, Information Minister Lamin Queen Jammeh has been caught by surprise that most of those things reported by the medium were repeated at the TRRC.
"Every morning before you go anywhere, it's the Freedom, you first consult," he admitted.
"At that time, I don't believe Pa Nderry," he added.
According to minister Jammeh, despite the fact that the Freedom has brought lot of information to the fore, they could not be attested to.
He, however, admitted that there were times when officials like him started to question themselves as to whether some of the atrocities and sexual immorality linked to their former boss was indeed true.
"There was a time when gossips were many in the country. Internally, you have to have good reason for supporting any information that one might have heard.
"But we started questioning ourselves: are these things really true (violations of rights)," he recalled.
"The write-ups on Freedom newspaper brought in lot of information even though they could not be attested to," said Jammeh on Coffee Time With Peter Gomez Tuesday morning.