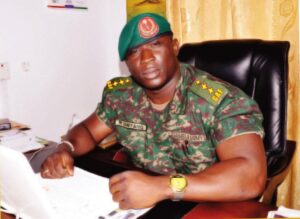 As part of its core mandate in saving lives, the army made an impressive turn-out on Tuesday to donate blood to the various health facilities across the country.
The massive blood donation exercise coincides with the International Blood Donor Day on Tuesday.
"The turn-out was impressive," enthused the Director of Press and Public Relations of the army Capt. Malick Sanyang.
He explained that soldiers from various battalions turned out in numbers to donate blood to the blood banks of the various major health facilities across the country.
Capt. Sanyang earlier on told JollofNews that the military has endeavoured harder and continues to strive more in ensuring the timely availability of blood in the blood banks.
"It is not out of context that we're donating blood because it is part of saving lives. It is not outside our mandate because you don't know who is in dire need," the military spokesman said.
He stressed though that the initiative is out of the magnanimity of the soldiers themselves as its voluntary through and through.