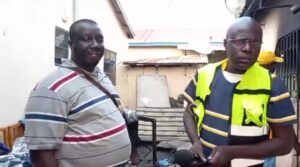 The house of top UDP official, Nyawuru Komma, was ravaged by fire Thursday evening, leaving a trail of destruction to property worth thousands of Dalasi.
At the time of writing this story, Komma and his family were looking for an alternative shelter after their house in Latrikunda was rendered inhabitable by the fire outbreak.
The outbreak was reportedly as a result of a shortcircuit.
When contacted, Nyawuru told JollofNews that the 'devastating' fire has left his family without shelter, adding that valuables worth thousands of Dalasi also perished in the fire.
"The fire had consumed 6800 euros, flatscreens, microwaves, decoders, set of dining tables, beds, including inflatable electric bed, wardrobes, bags of rice, gallons of oil, cartons of chicken, sausages and sardines," he explained.
"My wife's D40,000 was also consumed by the fire," Nyawuru further explained.
"The family is currently scattered. We are looking for an alternative shelter," he added.
For any intervention, you can kindly call the following numbers to reach Nyawur, wife or friend Tel:: 2806009/ 7566160/ 9909179/ 3828797/ 7275304.