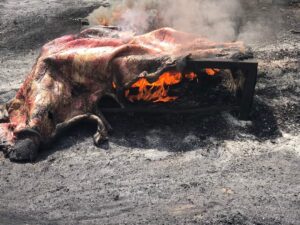 One of those allegedly involved in the use of used tires as fuel to smoke cowskin (Kawkanda) is now of particular interest to the police.
The police in conjunction with Food Safety and Quality Authority (FSQA) this morning arrested two men and six women somewhere in Abuko but the ninth suspect has reportedly taken to his heels, evading arrest.
He is currently at large, FSQA spokesman Ethiene Sylva told JollofNews.
He explained that the police and FSQA conducted the raid to arrest the suspects following a tip-off they were engaged in unwholesome food preparation activity somewhere in Abuko.
"We swung into action this morning, arrested eight people," he explained.
The suspects were detained and the search was ongoing for the ninth one, he told JollofNews.
The move, according to FSQA spokesperson, was geared towards ensuring compliance with food safety standards.