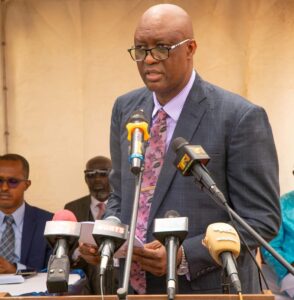 The Commissioner General of the Gambia Revenue Authority (GRA) has warned anyone who may be toying with the idea of playing mischief with the new ASYCUDA WORLD version that it would not be business as usual.
The Revenue collection agency on Monday unveiled the upgraded version of the Automated System for Customs Data (ASYCUDA WORLD) to speed up international trade, close revenue gaps among many other benefits linked to the facilitation of customs processes and procedures.
But it would appear the revenue collection boss has foreseen some troubles ahead as well.
"Its no longer business as usual," warned Commissioner General Yankuba Darboe at the launch of the new system.
"We have drafted the necessary regulations for the full implementation of the system (ASYCUDA WORLD)," he pointed pointed out.
"The regulations have spelt out the dos and don'ts of the system so that for those who want to abuse the system, it's clearly spelt-out you will be expelled," he disclosed.
"The system can keep record of every transaction for six years. I'm saying this so that users can know what they are doing. Its no longer business as usual.
"Once you go on the system, everything you do is recorded there and it will stay there for seven good years during which our officers can always revisit," he underlined.
According to GRA boss, penalties for regulations breakers could be imposed retroactively.