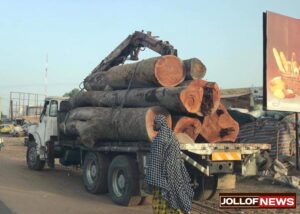 Members of the Association of Timber Dealers on Friday met with the Vice President in camera as Senegal mounts pressure on The Gambia to regulate the timber export business.
The multi-million dollar timber export industry is one of the truculent issues putting strains on the diplomatic relations between Banjul and Dakar.
Senegal has always felt that The Gambia was doing a poor job in putting in place proper regulations for timber export.
But the Minister of Environment, Rohey Jones Manjang, told GRTS on Friday that though people are 'anxious' to see the results they desire, she has another approach.
"My policy is we need to make sure we work in house to look at the strategies that were employed before so that we will see what has gone right and what has gone wrong. And, what we need to strengthen so that we have the results that we desire," she told the State broadcaster.
"Efforts have been made in the past but we still are unable to get the results we need. That's why we are taking our time to fix the house and to look at the loopholes to work and put heads together for the best results we desire," the environment minister said.
Meanwhile, Senegal has grown impatient with Gambian timber dealers and their security have adopted heavyhanded measures against them such as burning of their trucks and seizures of merchandise.
Timber trade meantime has been regarded as one of the fodders for the over four-decade liberation struggle in Senegal's southern province.
However according to Rohey Jones Manjang, The Gambia needs a policy on timber trade.
She disclosed that Mr. Barrow has homed in on her the urgency for a ban on timber trade.
"And, of course this time, we are looking for sustainable results. So that's what we are working on the process," she told GRTS shortly after emerging from the closedoor meeting that Vice President Badara Joof had with timber exporters.
As government continues to make pronouncements over timber export trade, there were reports people close to the corridors of power were key players in the sector.