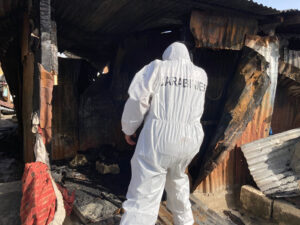 Reports reaching JollofNews intimated that a 35-year-old Gambian was killed in a migrant squatter camp around Foggia.
Regioni di Foggia is a popular destination for Gambian migrants as the region provides income in a country where job opportunities for migrants are very limited.
They live in unsanitary condition in the camp.
The accomodations, mostly built with waste materials, could be susceptible to fire.
Diseases were among other issues that migrants were battling in the camp.
Meanwhile the fire, thought to have been sparked by an accident, reportedly charred the body of the unidentified Gambian in his hut.