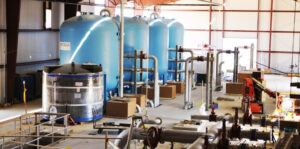 NAWEC said it did not have in stock that amount of chlorine which can constitute public safety risk.
The water and electricity company has been accused of stockpiling chlorine in its stores in Sukuta and Kotu, raising public concern over the safety of the people living around these two sites.
JollofNews was compelled to contact NAWEC as audio by a certain Gambian fugitive, claiming the water company stockpiled chlorine at its Kotu stores, generating mounting public concern and fear, went ballistics.
NAWEC meanwhile said it did not have such quantity of chlorine that people were talking about.
"I just spoke with the MD," NAWEC spokesperson, Pierre Sylva, told JollofNews when contacted for the second time on the chlorine issue.
"But he (MD Nani Juwara) said we don't have stock as people are talking about. He said we still have consignment that we are using at our water treatment plants," Sylva added.
According to him, NAWEC's MD has informed him that the chlorine in use at NAWEC was harmless.
"He (MD Nani Juwara) said even the chlorine that we bring is not harmful. It's always tested by National Environment Agency (NEA) before given approval for use because if it's harmful, it will not be used for chlorinating the water people are to drink," he stated.
Mr. Sylva added: "He (MD Nani Juwara) said for many decades, NAWEC has been using the same chlorine to purify water and it has never been harmful."
Meanwhile, according to NAWEC PRO, chlorine goes directly to treatment plants.