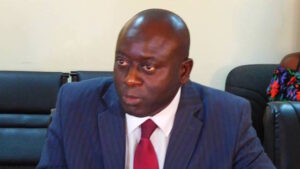 The former Minister of Information, Ebrima Sillah, has come in the firing lines again after been accused of reporting another international journalist to his organization.
It would be recalled that Ebrima Sillah reported Al Jazeera journalist, Nicholas Hague, to his organization sometime in 2021 after the former information minister felt Nicolas had staged his interviews whilst in The Gambia.
It would be also recalled that Ebrima Sillah in 2021 reached out to BBC's editor-in-chief Solomoni Mugera to lodge a complaint about a certain international journalist in an apparent attempt to put his credibility in question.
And, it would appear Ebrima Sillah's smear campaign against international journalists has now reached home as BBC reporter in The Gambia, Omar Wally, complained of similar experience.
Mr. Wally suggested that Sillah was at it again.
"There are folks who do not want prohibitive cost of living issue discussed such as Ebrima Sillah. He tried to gag people, especially me. He even went to the extent of filing a complaint with the BBC against me," Wally said.
"I told him (Sillah) that I will continue to speak about my country's wellbeing. We voted so that he was able to return from exile. I voted to put my country on track.
"And, Sillah is among those in Barrow's inner circle unhappy with people talking about the realities. He went to the BBC to say lot of things. I called to tell him that he wanted to destroy me but that would be a discussion for another time," Wally disclosed.