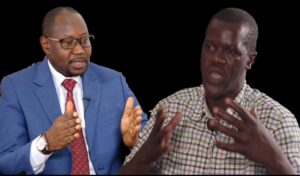 Mai Ahmad Fatty has reached out to Pa Modou Bojang bitterly complaining about why GMC was not consulted for a show that gave a scathing analysis of his party but when Pa Modou threw Fatty the chance to react, he (Fatty) said he was not ready.
He, in fact, warned Pa Modou not to use his (Fatty) refusal to trigger a storm in which his name would be a subject of discussion.
"I will let you know whenever I am ready," Mai snapped in an audio sent to Pa Modou and intercepted by JollofNews.
"I made the request but I have cancelled it. You are not God and I don't want to bandy words with you. You are destructive," Mai sternly told Pa Modou.
Mr. Bojang in one of his recent shows suggested that Mai Fatty's GMC was on a life-support and Fatty himself in difficult financial times.
And, Mai was apparently angered by this.
"You said only three people were left in my party? Your sister's husband is among them and I have a high regard for him. You could've contacted him to verify your claim. That's the ethics of the profession. That will make you fair," he stressed.
Mai fumed in the audio that Pa Modou has caused him some reputational damage by claiming that his removal as minister was linked to Semlex.
"You claimed I was removed because of the Semlex issue? What baffled me is that you never contacted me as journalists do," Mai argued.
"It's very vital that when you have such damaging material for broadcast, you contact the individual," he said.
He added: " It's very important that if you have such a material that can be destructive to an individual's image and debase them in the eyes of the public and the world, you contact them before broadcast.
"Backbiting is a serious transgression. You've said things that have caused me huge reputational damage. You brought embarrassment to my family; my wife, children, relatives, loved ones… People cried. Look at this again, you conducted a program on your platform… you have every control over that platform. You have people who hold you in high esteem likewise myself. I am one of the respected figures in this country. So, if you are producing a show about me, seek my side of the story to balance."