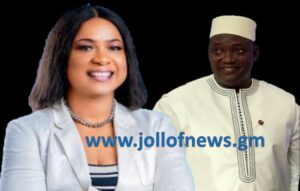 The Country Director of Global-HOMM, Neneh Freda Gomez, has opined that Gambians should rise up and say no to government's violation of the laws of the land.
She indicated that President Barrow and his government are now singing from Jammeh's playbook, expressing fear the country could descend into anarchy with such a 'worrying' trajectory.
She added: "Government is gradually becoming a dictatorship and creeping into the same system we were in.
"The judiciary is being disrespected by the same people-Attorney General and the President-who are supposed to be first and foremost, protecting our Constitution, our Judiciary."
Ms. Freda Gomez explained that her organization has resorted to the courts and that a court has ruled that the property being contested indeed belongs to Global-HOMM.
"Now, is about our Constitution and Judiciary being protected defended," she stressed.
She added: "And, we need to ensure the independence of our judiciary. How do we do that? We can do that by citizens rising up and saying no to these actions."
To Global-HOMM country director, if Barrow succeeds in flouting the court judgement delivered between government and her organization, more violations may follow.
"This is a litmus test because if this succeeds, nobody will be safe because you may be aggrieved, go to a court, get a judgement by paying exorbitant sum of money through a lawyer and you get a judgement and government is saying we are not going to respect the judgement and nothing will happen," she lamented.
According to her, this can make citizens lose faith in the courts.
"Citizens are going to now ignore the courts or take the law into their own hands and the country becomes a jungle, then we have an anarchy. This is how serious it is. Not a matter of our organization (alone) but everybody respecting the rule of law," Ms. Freda Gomez ominiously predicted.