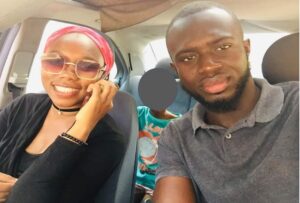 A Gambian woman whose two-year-old nephew died after he was inadvertently left in a parked car for hours outside the family home with temperature inside the vehicle at over 30 degrees Celsius has spoken for the first time about the incident.
Sainabou Mbye, the ex wife of Bob Keita, said her nephew, Muhammad, died due to lack of oxygen and vomiting.
"I drove home with Muhammed and the other children. When we got home, I disembarked from the car. Fatima and Aisha also descended from the vehicle and sprinted away," Sainabou Mbye claimed in a leaked audio obtained by JollofNews.
According to her, she was convinced that Muhammed was with one of the truck drivers because the child could be with anyone as he was no longer a baby.
"So, I held that Muhammed has followed Cherno and Cherno thought Muhammed had joined other kids in the house," she narrated.
She went on: "On the whole, Cherno had unknowingly locked him in the car and went out.
"Can you imagine? We'd thought the child had gone with Cherno. Imagine from 2pm to 5pm! After three hours, Cherno returned with the truck and merchandise. He said he'd forgotten his phone in the car and when he went to get it, he found Muhammed in the car parked outside the house and he was terrified. A neighbor advised him to pour water on the child as he was not yet dead.
"He was consequently rushed to Afrimed, EFSTH and later Dakar for treatment. I know his condition was due to lack of oxygen. He vomited and suffered almost to death."
Muhammed's father, Baboucarr Bob Keita, chief executive officer of Fire Protect Gambia Ltd, is accused of forcing himself on his wife's sister.
The sister in-law claimed she fell pregnant after the incident and gave birth to Muhammed in April 2020.