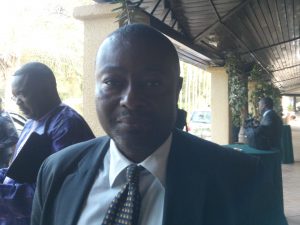 The Chairman of the National Human Rights Commission (NHRC) has said respect for rule of law and due process by all and sundry is a prerequisite for peace and harmony in the country.
As President Adama Barrow shows no sign of wavering in his readiness to lay a foundation stone for a luxury hotel on Global-HOMM's property this Saturday, Emmanuel Joof told Coffee Time With Peter Gomez Thursday morning that both the governed and those governing must have respect for courts as highest arbiters on issues around law.
"If we have to have a Gambia and live in peace and harmony, we must make sure all of us; the governed and those governing that we must respect the rule of law and due process," NHRC chair underlined.
He added: "We cannot have a country that is ungovernable. Those who have been given powers; the members of the executive must follow due process.
"Otherwise, it's a mockery of the system. So, court orders must be obeyed. That's why we had the judiciary and its independence.
"If we do not agree with the judgement, there's a procedure. Actually, this is the meaning of the rule of law and due process. You need this so that people can have confidence… you believe that this is a country of law and order. That's what it means. And when you have a country of law and order even when investors come to invest, they will say yes if I'm aggrieved, I know that if I go to the judiciary, I will get the right remedy. Not only will I get the right remedy but it will be implemented. So, these are what takes the country forward.
"And, this is what we decried during the era of Yahya Jammeh".