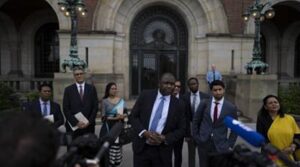 Judges at the United Nations' highest court on Friday dismissed preliminary objections by Myanmar to a case alleging the Southeast Asian nation is responsible for genocide against the Rohingya ethnic minority.
The decision establishing the International Court of Justice's jurisdiction sets the stage for hearings airing evidence of atrocities against the Rohingya that human rights groups and a U.N. probe say breach the 1948 Genocide Convention.
The Gambia filed the case in 2019 amid international outrage at the treatment of the Rohingya, hundreds of thousands of whom fled to neighboring Bangladesh amid a brutal crackdown by Myanmar forces in 2017. It argued that both Gambia and Myanmar were parties to the 1948 convention and that all signatories hade a duty to ensure it was enforced. Judges at the court agreed.
Tun Khin, president of the Burmese Rohingya Organization UK, welcomed the decision, saying 600,000 Rohingya "are still facing genocide," while "one million people in Bangladesh camps, they are waiting for a hope for justice."
Rédaction Africanews with AP