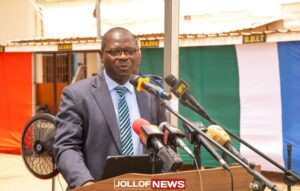 The cumbersome process that the touted proposed new government salary scheme will go through may mean President Adama Barrow could not honour his campaign promise of augmenting the pay and benefits of public servants.
The Minister of Trade, Seedy Keita, now has the task of going to the National Assembly to convince legislators to support the scheme.
He will face NAMs this Thursday in hearts and minds offensive as he canvasses their support for the new pay scheme.
This last ditch attempt by government to increase salaries of civil servants has thrown the lid off government's inability to honour its promise to civil servants, considering the time required for the consultations.
The trade minister will be meeting legislators at a time when civil servants will be queuing at their various banks for their July salaries.
President Barrow has meantime made a campaign pledge that indicated that civil servants will this month go home with broad smiles on their faces as their pay checks would be enhanced by 60 per cent.
But it would appear civil servants will,in fact,walk home end July with contorted faces as their hopes for enlarged paychecks become far-removed.