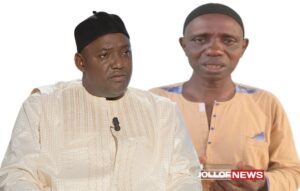 The executive secretary of Gambia for Five Years and Peace-building has asked President Barrow to accord him all his rights before September else he withdraws his allegiance and loyalty to him.
Ebrima Sorrie Bah threatened that in the event President Barrow fails to respond to his demands before September, he will wave him 'goodbye'.
Sorrie Bah was the main architect of a movement that injected renewed hope and confidence in President Barrow after his morale was crashed by the descending onto the street of thousands of Gambians,demanding his adherence to the three-year transitional arrangement.
In a period of eight to nine months, he was able to marshall thousands of Gambians for a counter-protest for President Barrow to exhaust his five-year term.
But Mr. Bah is currently a disappointed man.
He's also unhappy and livid with Mr. Barrow 'for allowing him to struggle on the periphery of the NPP after the long struggle'.
And, he has now threatened to quit.
"I'm set to depart NPP by September if they don't accord me my rights," he told King FM Felerangoo morning show today.
Mr. Sorrie Bah has many issues with the NPP, including his anger over how he said he was denied inclusion in the party's political council, elbowed out of the NPP executive, the non-recognition of the efforts of the executives of his movement by the NPP and remoteness from the President.
As reported earlier by this medium, NPP is currently struggling to contain cracks from within as more executives and rank and file of the party as well as coalition partners grow more disenchanted with palpable feeling of betrayal in the camp.