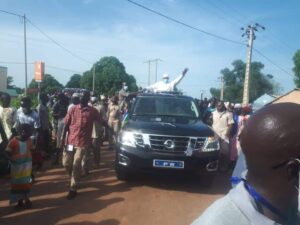 The front left tyre of President Adama Barrow's vehicle burst before four other security officers got involved in a macabre accident on Thursday, JollofNews was reliably informed.
Sources close to the Presidency told this medium that Mr. Barrow's trip to his one-horse village of Mankamang Kunda from the Gambian capital on Thursday was delayed when his vehicle sat down before entering Mansakonko.
"The President's vehicle developed a flat tyre and it was later that we heard four security officers were involved in a grisly road accident," JollofNews was told.