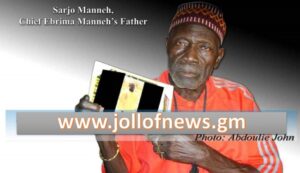 The father of disappeared journalist Chief Ebrima Manneh has died after almost 16 years of search for his son.
Mourners on Monday turned out in Lamin to offer supplications and pay their last respects to Ba Sarjo Manneh.
For the past 16 or so years ago, the late Ba Sarjo Manneh had been frantically trying to establish the whereabouts of his son.
Chief Manneh was the head of the Daily Observer crime desk but disappeared in 2006 and since then, nothing has been heard of him.
It's believed Yahya Jammeh was behind his 'abduction' and subsequent 'execution.'