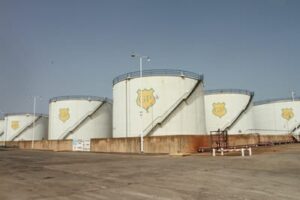 The Fraud Squad of the Gambia Police Force (GPF) was reportedly investigating the circumstances surrounding a tanker of unrefined gasoil impounded at one of Tech World Oil Company's stations but the company said on Friday that it earlier refused the fuel because it was of poor quality.
It would be recalled that the police at Banjulinding confiscated the fuel tanker at Tech World's Sinch Alagie station on 6 August 2022.
Giving the details of the transaction to journalist Hatab Frankie Nyang, Operations Manager of Tech World Oil Company, Lamin Touray, said he'd received a phone call from a certain Mr. Hydara, who introduced himself as an agent of SinoAfric Petrochemical Company Ltd and that he had gasoil for sale.
Touray explained that this was his first encounter with Hydara.
"His initial price was D68 and some butut per litre but we later agreed on D61.09 upon which he promised to deliver the product on Saturday," Tech Oil Company's operations manager was quoted as saying.
Touray narrated to his interviewer that he later received a call from Hydara that he was on his way to deliver the gasoil from Gampetroleum's Mandinary depot.
"When he arrived, he said he only got between 8,300 and 8,500 litres but I told him that was not a problem as that could be verified by station manager Yankuba Sawaneh," Touray explained.
"However, when I communicated to Yankuba, he said he was not satisfied with the quality of the product.
"I asked him to give me the driver of the tanker whom I knew for sometime. When I got him, I told him that we've been working together for one year now and I didn't expect him to conceal anything from me. When I asked him about the quality of the product, he said he'd never transported a bad product as the one in the tanker.
"I then instructed Yankuba to tell Hydara that we were not interested," Tech World's operations manager Touray stated.
Tech World Oil Company's Sinchu Alagie station manager Yankuba Sawaneh corroborated Touray's narration but added that when his boss insisted the product be returned, he saw someone he later knew to be SIS agent, taking videos and pictures.
Sawaneh said the agent asked him to discharge the gasoil but he refused.
The tanker was later taken to Banjulinding police station but released on August 11th.
The matter has now reached the Fraud Squad of the Gambia Police Force (GPF).