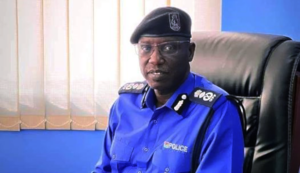 The police officer, who reportedly raped a 22-year-old girl, will be dragged through public shame as the police prepares to 'march him to the Police Headquarters for Dismissal'.
Sgt. Mamoud 2163 Sarjo was sometime ago arrested and slapped with a rape charge.
Officer Sarjo reportedly deserted his duty post for monkey park at the seafront where 'he had an encounter with a group of young boys and girls on a party'.
"The startled group took to their heels, but he got hold of and raped one of them," the police said on Monday.
The police reportedly arrested him and took him to Senegambia police station where he was charged and detained.
"The victim was taken to the hospital and was confirmed raped after a thorough medical investigation," the police said.
"He (Sarjo) will be marched to the police Headquarters for Dismissal," added the police, though it doesn't say when.