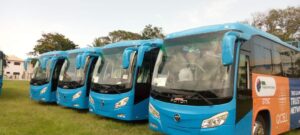 The Gambia government appears to be showing no sign of slowing down in finding a permanent solution to the current crisis in the public transport sector as it now has plans to deploy 100 buses across the country.
Two months ago, President Adama Barrow launched an urban transport project that paved the way for the mobilization of 30 buses across the Greater Banjul Area.
Meanwhile, the Minister of Information, Lamin Queen Jammeh, this morning revealed in the Coffee Time With Peter Gomez breakfast show that the 100 buses will be distributed across all regions of the country as a way of making public transport less challenging.
These moves,many said, would significantly provide a boost to the KMC Urban Transport Initiative also devised to consign public transport crisis to history.