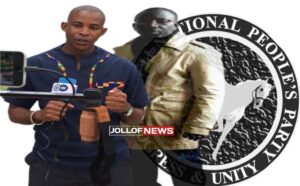 The NPP executive as well as the rank and file have been asked to "tackle journalist Omar Wally before he plunges the country into the abyss of chaos".
NPP official Momodou Yaya Fofana has been whipping up sentiments in the NPP against journalist Omar Wally as according to him, Mr.Wally has sympathy for the main opposition UDP and that he must be restrained.
This was not the first time that journalist Wally has had to deal with such allegation.
A little over a month ago, the journalist released an audio recording in which he alleged that the former Gambian information minister Ebrima Sillah was trying to convince the BBC that he was a Mandinka tribalist and an opposition sympathiser.
Meanwhile, Momodou Yaya Fofana on Friday released an audio in which he called NPP to action against journalist Wally.
"He is a Mandinka tribalist loyal to the UDP. I call on all NPP supporters to tackle Omar Wally before he destroys this country," Fofana fumed.
He did not, however, say how.
Fofana fired: "Look at how he (Omar Wally) analysed the confrontation between MFDC and the Senegalese forces.
And, yesterday he had the audacity to express displeasure over why an NPP journalist was allowed into a press conference. How dared him when he himself belong to nowhere because UDP has yet to be elected. Omar Wally is a destructive force and I want the entire NPP to tackle him."