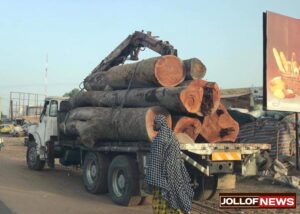 Barely a month after The Gambia's banning of its timber trade and revoking all existing export licensees, officials at the Environment Ministry estimate that some 46,000 cubic metres loaded in some 2,000 containers are believed to be hidden within the country. With an average value of USS$23,000 per container, the cumulative equivalent in Gambian Dalasi is about D2.4 billion.
This huge discovery followed a tip-off by a whistle-blower to the Honourable Minister of Environment, Rohey John Manjang on Saturday, 27th August, 2022. Upon receiving the hint, Minister Manjang wasted no time in mobilizing her technical staff and the security outfits to gather additional evidence. So far, at least, 208 containers loads of Rosewood locally known as "Keno" have been located within the Greater Banjul Area alone.
During a sting operation on Tuesday, 30th August, 2022, a team of investigators from Kairaba Police Station led by Cadet ASP Bah discovered additional 14 containers in Sukuta all containing Rosewood (Keno), 16 containers in Mamouda, 21 containers in Jambanjelly, 21 containers in Kembujeh, 14 containers in Bafuloto and 13 containers in Farato.
According to The Gambia Government Spokesperson & Presidential Diaspora Adviser, Ebrima G. Sankareh, ever since the banning of the timber trade and revocation of all existing permits by the Government of President Adama Barrow on 1st July, 2022, the State continues to vigorously monitor the timber sector. He encourages citizens to keep sharing valuable information that would help the authorities in addressing the menace of illicit timber trade affecting our dwindling forest covers and potentially, threatening sub-regional peace.