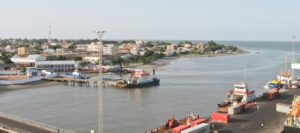 The massive bleeding of revenue that the Gambia currently experiences as a result of its dilapidated ports infrastructure could be compounded by the ramifications of the ongoing general strike action called by the General Transport Union (GTU).
The decaying ports infrastructure and decreasing efficiency gains due to equipment problems and corruption have been depriving the country millions of Dalasi in revenue on monthly basis.
Container ships have long since found an alternative in the Ports Autonome De Dakar as the Gambia ports struggles with berthing and other issues.
As the ports revenue dwindles, it continues to face new sets of revenue challenges and therefore, a long line of vehicles refusing to enter the ports to either load or offload could not come at a terribly bad revenue times for the GPA.
"We are observing the strike called by our union. We will not enter the ports unless we are told to do so by our leaders," a trucker told Jollofnews.
Meanwhile, it's forecast by analysts that GPA, with a bleak growth outlook, could be among the various sectors that would be licking gaping wounds after the strike, which currently has no end in sight, is being called off.