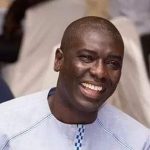 I'm not holding my breath on this but whoever wrote that speech for my Bandam should be fired. It's not that the speech is necessarily terrible, it is that the speech is not Barrow's words or style and that was painfully obvious in the text of the speech. As usual, the speech itself is long on platitudes and short on specifics, but that's a topic for another day.
Judging by Adama Barrow's overly positive speech, we may all live in Gambia but we apparently live in very different Gambias. Those who, like Adama Barrow, see the glass half full are the ones most likely taking a sip from it. Those who know the freaking glass will be empty by the time they get to it will see the glass half empty. And that's majority of the people! But on to the speech!
There's a reason someone tasks another to write a speech for them. Sometimes, as is the case of Adama Barrow, he simply can't write certain speeches himself. And that's alright. But the person writing the speech is writing in the VOICE of the person they are writing for. You are not writing a speech for someone else to showcase yourself in anyway. It's not about you the writer but about the reader.
Meaning, the writer has to know the person they are writing for. The speech must sound like the reader. The speech must look like the reader. The speech must reflect the reader, their thinking, their character, their very essence.
The audience must be able to recognize the reader in the speech. The speech writers job is to make the audience see the reader in the speech. On all these scores, Barrow's speech spectacularly failed. It was painfully obvious that he didn't write that speech and had little to no input in it.
The speech writer could have written all Barrow said in Barrow's voice. But no, whoever wrote that speech wanted the attention on him or herself. They used words that are not in Barrow's vocabulary. Structured sentences in such a way that it was painful hearing Barrow's cadence. The speechwriter failed my Bandam. Kudos to my Bandam though because you could see that he tried. His writer failed him.
And mehn I can't go without mentioning the buffoonery of Sayyindi Jatta in his stupid-looking colonial regalia! I felt terrible for the mic before him and I can only hope that someone sanitizes that mic for all the sulfuric nonsense emanating out of the depths of that liar!