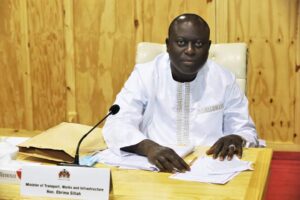 Aside slavery and colonization, the UK can also be brutally remembered for callously ejecting Gambians from its territory as they desperately searched for sanctuary from dictatorship.
Never in the history of the impoverished West African nation had citizens been uprooted from their homes in such magnitude as during the Jammeh dictatorship.
Senegal, Sweden, US, Canada and Germany have been providing escape for Gambian refugees but colonial master UK was busy, banishing many of them to danger by refusing their asylum applications.
One such Gambian is the former GPU President Sheriff Bojang, who was forcefully returned to The Gambia despite the preponderance of evidence that his life was under a serious threat.
Sheriff later fled to Dakar where he sought refuge until the fall of dictatorship.
But there were reports that some Gambians were also trying to abuse the UK asylum system.
The current transport minister, who has a reputation for lying, is reported to be among Gambians who presented false asylum claims to the UK border authorities.
In 2003 or thereabouts, Ebrima Sillah reported an arson on his Jambur house.
The Point newspaper reporter,who went to find out,did not believe him.
"I think he (Sillah) set his house on fire himself," former reporter Alhagie Mbye told our editor-in-chief.
Mr. Mbye now a senior Non Commissioned Officer in the US Marines was not convinced by Sillah's demeanor as he gave account of the "incident" that many equally later thought was staged.
Shortly after the reported arson, Sillah claimed he was fleeing the country for sanctuary and ended up in the UK.
However when he reportedly filed an asylum application to the Home Office, someone allegedly called to say Sillah himself set his house on fire.
He later returned to Africa and lived in Ghana and Senegal before returning home in 2017.
JollofNews has sent a request to transport minister Sillah for comments.
The British High Commission in Banjul could not be immediately reached for comments.
JollofNews is still following the story…..