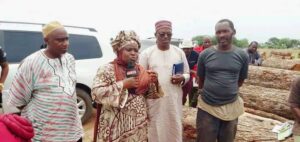 The environment minister Rohey Jones Manjang has said since local consumption of timber is legal, government cannot seize timber stockpiles in garages and compounds.
She was, however, quick to add that any attempt to move timber out of the country would not be tolerated.
"If any container is moved or any sign of movement out of the country, government will act," the climate change minister vowed as she spoke with Coffee Time With Peter Gomez this morning on the line from New York where the 77 UN General Assembly is currently underway.
It would be recalled that government earlier this month announced that D1.4bn worth of timber was discovered at various locations in the country.