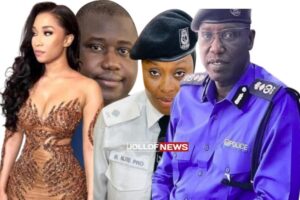 Khadijah Kebbeh has reportedly left The Gambia for the US barely a month after she was ordered to pay over D4m to a Gambian businessman based in the UK.
High Court judge Justice Oledi sometime last month ordered Ms. Kebbeh to pay more than D4m to Laggie Gumaneh after the UK-based businessman instituted a legal action against her and a certain Muhammed Kebbeh.
Mr. Gumaneh sued Khadijah Kebbeh, Muhammed Kebbeh and his company-African International Trading- for restitution of D4,468,800.
The businessman paid the money for four containers of 5,320,20-litre jerry cans of Fleure vegetable cooking oil, which were never delivered.
Gumaneh also sought for a D446,880.00 legal and administrative costs.
Khadijah Kebbeh was held equally liable for the failed transaction because the money was paid into her bank account.
Meanwhile, multiple sources hinted JollofNews that Ms. Kebbeh has left the jurisdiction for the US.
Details were though scanty.
Last week, JollofNews contacted the police spokesperson on the issue but she did not make good on her promise of getting back to us.
She has not also been receiving our many phone calls afterwards.
Justice ministry officials contacted by this medium could not shed any light on the matter.