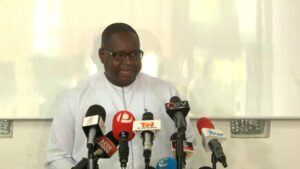 Following social media reports that the government spokesperson has parted ways with President Adama Barrow, Ebrima G. Sankareh has today resumed his responsibilities, JollofNews has learnt.
The government spokesperson was among the Gambia's advance party to the last UN 77th General Assembly in New York.
However, when the President and delegation returned home, Sankareh was not in the party.
This apparently gave rise to ferocious social media speculations with some gloating over Sankareh's "fall from grace to grass".
It was also said in some quarters that Mr. Sankareh, who is also the adviser to the President on Diaspora Matters, has been lowered in station by being stripped of his titles.
Meanwhile, JollofNews has confirmed that the government spokesperson lingered in the US to have some quality family time with his wife and four children.