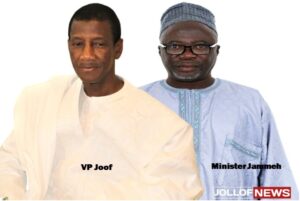 The Gambia's Vice President has proved, as wrong, views held of him by the country's minister of information, who recently defended his work ethics on air, describing him as a man of virtue and flawless character.
For the past few weeks, talks of the Gambia's Vice President habitually reporting to work late has become an issue of passionate discussion on a radio platform.
Representing the government on the platform, information minister Lamin Queen Jammeh expressed doubt that a man of VP's calibre would be reporting to his desk behind time.
He later dismissed the claims, which now proved to be true, as highly improbable.
However, it has now become clear that the VP was indeed going to work late.
Evidence of VP Joof's vehicle, meandering in a morning rush hour traffick, has emerged.
Some members of the public have been closely watching the vice president after noticing a "disturbing" trend in his work ethics.
The VP was said to be reporting to work late and habitually.