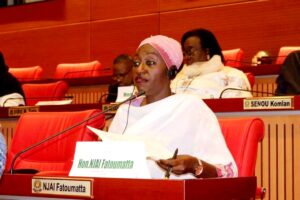 Independent Touma Njie has described the deputy speaker's defense of the Gambia government in the deaths of 70 children as lies and was consequently sent out of the Parliament for stepping on the big toe of DS Seedy Njie.
The Speaker of the National Assembly Fabakary Tombong Jatta could not succeed in making Hon. Njie retract her description of his deputy as the Banjul South legislator insisted on rubbishing DS Njie's interventions in the cough syrup debate as lies.
She was, therefore, sent out of the legislative session for standing her ground.