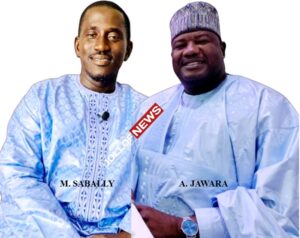 Millionaire entrepreneur Dr. Abubakary Jawara said his decision to go down the legal lane with former head of the civil service is aimed at redeeming his reputation.
An audio released by political and social commentator, Njie Manneh, has apparently concerned Dr. Jawara, describing the statements therein as unfortunately tribalistic.
"The author of that audio, one Njie Manneh, implied that my defamation lawsuit against Momodou Sabally is a lawsuit against all Mandinkas. I condemn this offensive statement in its entirety and invite all well-meaning individuals to do same," said the business tycoon.
According to Dr. Jawara, the lawsuit against the former secretary general and head of the civil service is in exercise of his right as a citizen empowered by the laws of the land to take recourse of the courts.
"This lawsuit, therefore, has nothing to do with Mandinkas. Infact, this lawsuit does not mean I hate Mr. Sabally; the courts are meant to resolve problems between citizens and I approached them to, through a civil case, resolve this dispute between the two of us," GACH boss elucidated.
He added: "I am a Sarahuleh and you know we have a very good and cordial relationship with Mandinkas, especially Badibunkas. A lot of my closest friends are Mandinkas and more the majority of the employees in my company are Mandinkas. We should not, therefore, let anybody fool us that this case is a case against Mandinkas or try to use it to spread tribal hatred."
Meanwhile, Dr. Jawara asked his fans and well-wishers to show restraint.
"I wish to ask all of you to remain calm and polite. I strongly discourage any personal attacks or insults against Mr. Sabally," he advised.
The businessman and philanthropist also appealed to those planning to travel from the URR as well as those working on printing T-shirts to show their solidarity in spirit rather than in a groundswell on the commencement of the defamation case this Monday.
"While I remain grateful for your support, I wish to plead that you do not print T-shirts or show up at the court in your numbers," requested Dr. Jawara.
He continued: "The Court is a place of respect and order and showing up in large numbers will only distract from the important issues.
"Also, in this current economic climate it will be wicked of me to see people using their hard-earned money to print t-shirts to support me and not speak out. I encourage you to use those funds to instead support your families or give somebody in need."
"I wish to take this opportunity to thank you again and assure you that you will be updated on all the latest developments on the case after the court sitting. I pray that Allah (SWT) continue to bless and protect all of us," Dr. Jawara told well-wishers.