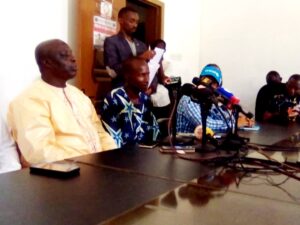 The former Director of Health Promotion, has Wednesday urged journalists to continue working in tandem with the Ministry of Health as he bids farewell to media practitioners.
In an emotionally charged situation, Njai explained how he started in 2001interacting with journalists, leading to more than a two-decade long collaboration.
Over these past years, the Directorate of Health Promotion and Education has been teaming up with the media to amplify the Ministry of Health's messages, vaccination drive etc.
Getting back to history, the former Director of Health Promotion said the first training they organised aimed at improving journalists' professionalism. He then added that it triggered media practitioners to set up the Network of Health Journalists.
On the last day of the training, he went on, journalists committed to forming an association, propelling Madi Ceesay at the helm of the newly formed body – the Network of Health Journalists.
"We worked with him until we are able to level the ground," he remarked while emphasizing the good rapport that existed between the Directorate and the media.
As he is about to set off towards Abuja, Nigéria, Njai called on journalists to making sure they will continue iving up to momentum.
Modou Njai bagged a new job at the Africa Center for Diseases Control (CDC), and has assured he will spare no efforts to put Gambian journalists in the loop about training opportunities.
The Deputy Director of Health Promotion, Sanjally Trawalley, has been appointed as the acting Head of the Directorate.
The ceremony was also punctuated by statements made by some journalists who seized the opportunity to express their deep gratitude to Modou Njai.
In fine, certificates were awarded to media houses and individuals in recognition of their exceptional work toward health and education.