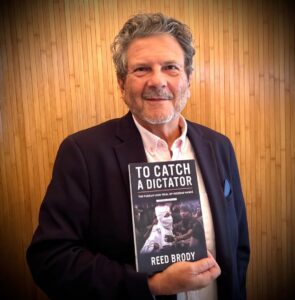 Renowned human rights advocate Reed Brody has remained unshakable about a possible ban of his new book, "To Catch A Dictator," by some African governments under the pretext of 'protecting their populations from subversive literature.'
"Well, the book certainly aims to be subverrsive," he told Jollofnews when asked whether he is foreseeing the book to be flagged to be flagged by some African governments for its subversive characteristics.
Reedy Brody was on Monday evening at Columbia University, New York, for a wide-ranging conversation with Professors Lori Damrosch and Fred Davis on his new book that gives an account on how he succeeded in bringing former Chadian leader, Hisséne Habré, to justice.
The former Human Rights Watch attorney emphasized that he cannot preempt what will happen in a near future. But he was quick: "Let's see what happens! I can't see Chad banning it as it is in English so far. "
He then confided to Jollofnews that the publishing company has printed 2,000 copies, adding that he does not have a clue about the distribution.
'A Question Of Political Will'
Reed Brody took the opportunity to dive into #BringJammeh2Justice campaign, making it very clear that the "evidence is there, including from many of his henchmen, directly linking Jammeh to murder, torture, rape and other terrible crimes."
"If the Gambian government really wants to make it happen, and puts in the work, we could see Jammeh in handcuffs in the next few years," he added.
The American campaigner is a leading member of the International Commission of Jurists and advises the Kololi-based victims' center in its quest for justice.
While acknowledging that government White paper is an important and meaningful step forward, Brody unequivocally told Jollonews:
"Now the government will have to demonstrate with concrete actions to an increasingly skeptical public that it actually has the determination to bring perpetrators to book."
He then added: "Laws still have to be enacted, a court has to be established, cases have to be prepared, and Yahya Jammeh has to be brought into custody."
Meanwhile, Gambia's Attorney General and Minister of Justice, Dawda Jallow, has recently expressed Gambia government's plans to establish an hybrid court during high level talks with ECOWAS officials.
The move was welcomed by a good number of victims as they continue to cross their fingers…