The Chairman of Basse Area Council has once again accused President Adama Barrow of giving him cold shoulder almost one year after accusing the President of same.
Nearly one year ago, Chairman Foday Danjo accused the Gambian leader of snubbing him at a ceremony organized to lay the building block for the Basse market ravaged by fire.
Danjo, who won the Basse Area Council under UDP ticket, bitterly complained of some wrinkles on his relations with the NPP government.
He accused former local government minister Musa Drammeh of driving a wedge between him and the President.
Meanwhile, Chairman Danjo has once more accused President Barrow of snubbing him and his administration.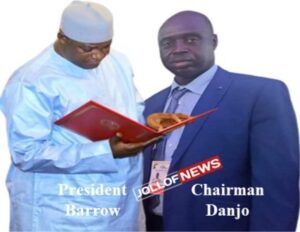 "How can we introduce a billing system at a bridge, the inauguration of which, we weren't invited to," he asked as he responded to allegation his administration has introduced a ticketing system at the Samba Jouma Bridge in Basse. Read more..
The bridge, named after an unknown hero, was inaugurated last year amid pomp and ceremony.
However, according to Mr. Danjo, his council was not invited to witness the unfolding history.
Though this happened some months ago, the question as to why the NPP government has been keeping the Basse Area Council at arm's length is still relevant.