As the unpredictability and precariousness of the Gambia's food situation remain, President Adama Barrow is appealing to farmers to support the creation of national food banks by selling their cereals to the government.
Despite government's brutal fertilizer policy this outgoing farming season, bumper harvests have been reported in several parts of the country.
Cereals and legumes have reportedly performed spectacularly better than expected, government's decision to sell fertilizer to farmers at D1300 more this year notwithstanding.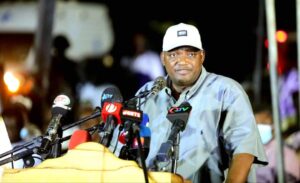 As thousands of Gambian households slip deeper into food and nutritional insecurity due to rising food prices, Mr. Barrow on Tuesday told farmers in meetings in the North Bank Region that they should consider selling their farm produce to the government as a safeguard against hunger.
But as he pushes deeper into the hinterland, appealing to farmers to support his food bank initiative, government meanwhile has neither a clear vision nor the infrastructure to actualize it.
Currently, government has no silos across the country to keep the grains and, it as well has yet to devise any strategy to set the ball rolling for the purchase of the grains such as coos, millet and rice.