Gambia's Adama Barrow has vowed to make the mechanization of the agricultural sector a reality as he received the prototype of a groundnut separating machine donated to him by a philanthropist.
"This is part of mechanisation. Agricultural mechanisation will increase exponentially work-speed. The harder part of the labour can now be done by the machine," the Gambian leader told reporters, shortly after inspecting the peanut separating machine in a farm located in front of his Mankamangkunda residence, Upper River Region (URR).
In his last State of the Nation Address (SoNA), President Barrow signaled his intention to mechanize agriculture. He reminded the country's lawmakers about the initiative taken by government during the last five years to heavily invest in the modernisation and transformation of the sector.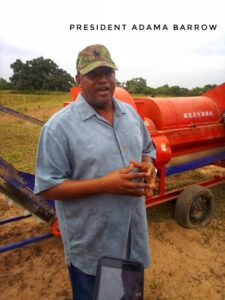 "A farmer who was having 1 hectare under cultivation can go up to 8 hectares," he said while deploring the fact that we have 70% of Gambians involved in agriculture but we cannot still feed ourselves.
As Gambian farmers are still struggling to overcome manual labour, President Adama Barrow expressed his resolve to drastically lower the time and efforts they spent on farming.
"If we invest in agriculture, we will be fully liberalised and we will have our independence," Barrow voiced out.
He then added that political independence is baseless if we are not able to feed our own country.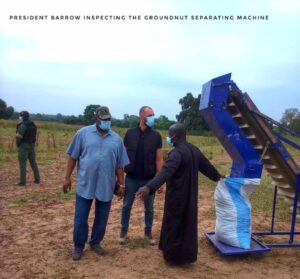 "I think mechanisation is the way forward. Government will be part of the process," he assured.
Barrow called on Gambians to go back to farming in order to boost the agricultural sector.
As the 2022 'Meet the People Tour' has entered crucial stage, President urged farmers to take ownership of the mechanisation project.