The name of the Gambia's minister of transport is still refusing to fade away in the deluge of allegations of election-linked foul-play and underhand tactics.
Transport Minister Ebrima Sillah was at the vanguard of President Adama Barrow's propaganda blitz as information minister but some of the comments he made before the poll are still haunting him months on.
The opposition UDP has been relying on these comments as proofs of election malpractices.
As he still could not wriggle himself out of deep-seated suspicion after predicting the poll's outcome with a prophetic accuracy, Mr. Sillah has come under the microscope again.
As possible proofs of electoral fraud emerges from across the border, Lawyer Ousainu Darboe has renewed his party's distrust of Mr. Sillah in the entire scheme of things.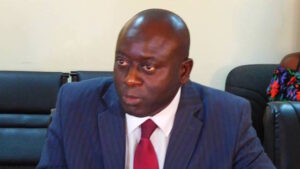 "What has been said by the Senegalese National Assembly member confirmed the fraud that Ebrima Sillah referred to in an interview with a group of journalists when he said we know what we have done…we are going to win this election. And, what they have done is now gradually being unearthed, gradually known to the people," Darboe said as breathes continue to be held hours after embarrassing revelations that Gambian identity documents were made available to Senegalese nationals across the border in election periods.