Ousman Sonko, one-time interior minister in the Jammeh dispensation, is still a talking point in The Gambia as his issue cropped up once again in an educative sexual and reproductive health program on Radio Veritas on Thursday.
Almost ten years ago, Ousman Sonko raped an under-aged girl in his car in Kombo Lamin.
But Sonko was never punished for the act as he reportedly hushed the matter by giving the girls father some money.
In an exciting program on Radio Veritas on Thursday morning, four erudite women shared the table to talk about extremely vital issues revolving around sexuality, mental health, birth defects, parental support and care for children born with abnormalities such as two genitals, hormone growth and related topics.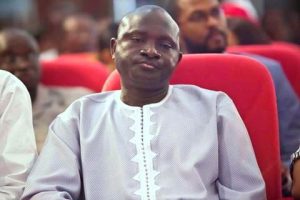 However as the program reached mid-point, Mr. Sonko's name came up as the discussion tilted towards rape apologists in The Gambian society.
Meanwhile as Sonko's victim suffer in silence, one of the panelists said: "As Christians, we say if really human condition allows this to be happening, God is watching."
And rightly so, as Ousman Sonko is currently in Switzerland undergoing trial for crimes he allegedly committed.