President Adama Barrow has Wednesday expressed satisfaction at the just concluded Phase One of 'Meet The People Tour' during which he had interface with Gambian farmers, women's groups etc. The tour also provided him with the opportunity to hold on-site visits and have face-to-face conversation with technicians, community leaders, government representatives.
"We are very happy with the tour. The turnout was very good. It was well organised and people came out in their numbers" Barrow told reporters shortly stepping on State House grounds.
For over a week, the Gambian leader crisscrossed the country's hinterland to meet with people, chart ways to improve the welfare of farmers, and brainstorm in real-time on the challenges the regions visited are confronted with.
"People have put their messages across, and we have listened to them" he added.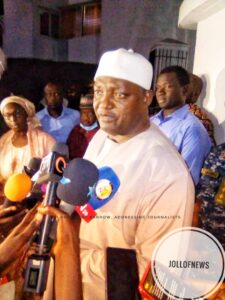 While acknowledging the challenges they are facing, President Adama Barrow further stated that the populations did admit that government has made significant progresses.
"We've done some projects that impacted in the life of people," he said. "It is clear that there a big difference compared to 2017-2021 period."
The Barrow government unveiled a good number of projects geared towards changing the life of people, contributing their quota in the country's quota in the country's development process.
"We've built a strong foundation. I think now the sky is the limit," he said.