The UDP leader has said his party will not condone the participation of non-Gambians in the incoming local government elections.
With little less than four months to go before Gambians return to the polls in the final elections of the electoral cycle, Lawyer Ousainu Darboe appears to be in no mood for even the slightest of electoral malpractices.
The Barrow government is still silent on allegations from the other side of the border in Senegal that Gambian identity documents were made readily available for Senegalese citizens during Gambia's election seasons.
MP Oumar Ceesay Souvane last week gave the UDP the fresh impetus to articulate their position on the past general election it claimed was fraudulently won by the NPP.
UDP maintains Darboe is the de jure President of The Gambia "after being robbed of his victory" in the 2021 presidential election.
Following the crumbling of its case at the court before it can even tee off, the party has been releasing evidence it believed could have guided the court in establishing its claim of electoral fraud.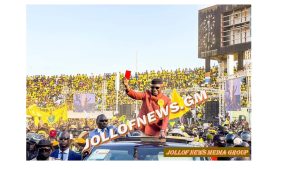 Currently, there's a pervasive sense of vindication in the party and renewed suspicion of surreptitious acts against the NPP in the last poll when MP Souvane suggested to the Senegalese House that it was unacceptable Senegalese were acquiring Gambian documents in such a magnitude as he described it.
The question that pops up is this: Was the voter register really bloated with non-Gambians?
Meanwhile, Hon. Darboe last week said UDP will ensure non-Gambians do not vote in the April local government elections.
"We will make sure none of these people vote in the coming local government elections," Darboe stressed as he commented on MP Souvane's claims in the Senegalese House of representatives.