Philanthropist Dr. Abubakary Jawara is renowned for his charitable disposition and the millionaire entrepreneur was on Thursday a beneficiary of a gift created to recognize and appreciate his contributions to Gambia's development.
For all these past years, young Gambian artist Modou Lamin Cham has been keenly following the humanitarian works of Dr. Jawara, especially in the area of youth development but he did not know how to express his sentiments of recognition and appreciation of the philanthropist's humanitarian support.
Modou Lamin then reverted to arts and through creativity, he was able to fully express his feelings of recognition and appreciation of Dr. Jawara's energy and heart to give to worthy causes.
He used his creative juice to masterfully create a life-like portrait, depicting the GACH boss.
On Thursday, Modou Lamin went to GACH Group's HQ at Fatou Golden Plaza to present the work to Dr. Jawara.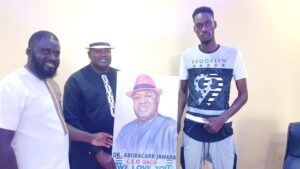 "I am motivated by the helping hands rendered to the younger generation of this nation by Dr Abubakary Jawara, and the best way to show my appreciation to him is to give him my handwork portrait, painting him. Dr Jawara is always giving to the people but how will they give back to him? This is my way of saying thank you to him and that is why I decided to put my creativity into paperwork," Modou Lamin explained.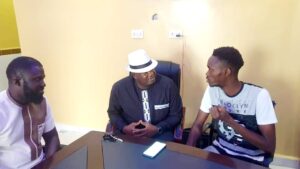 He added: "As a young artist, who treasures labour, this is the only way I can say thank you, Dr. Jawara."
Meanwhile, the philanthropist was apparently excited to receive the portrait.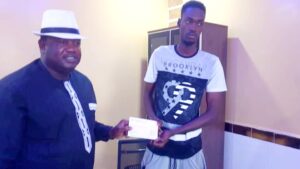 With broad smiles all over his face, Dr. Jawara appreciatively took the portrait, praised the young artist and then fired him up to be steadfast as there's a lot in store for him.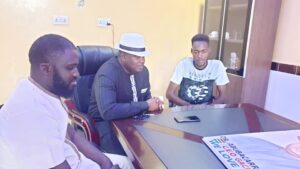 After giving him the assurance of an open-door policy, Dr. Jawara gave Modou Lamin a cheque for D10,000.