A Brikama woman and two of her children have been reportedly held back in the Algerian border village of Aril despite the insistence of their traveling companions to return with them to Niger.
The woman (name withheld) had travelled with her two children to Algeria to attempt to cross over to Spain but were rounded up alongside thousands of other migrants from sub-Saharan Africa and confined to a deportation camp, sources told JollofNews.
"We've tried very hard to convince the Algerian authorities to allow the woman and her children return with us to Niger but they would not listen," a native of Essau Abdoulie Kundoul told this medium.
"The IOM camp in which we left them behind, was overcrowded and the conditions tough. People there were suffering from hunger, thirst and the bitter cold weather," he added.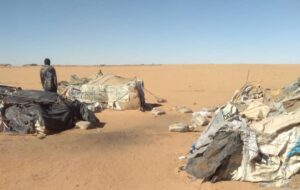 Meanwhile, a batch of Gambian migrants was recently sent back from Aril in Algeria to Azamac in Niger and were reportedly abandoned in an IOM desert camp.
The IOM has "insisted" on engaging Gambian authorities before it could return them home despite the "harsh" camp conditions.
Anyone, wishing to reach out to the stranded migrant may call: +227 70522914 or +227 80426741